Does anyone else get mesmerized by The Food Network? I should know better than to turn it on, because once I do it can suck up hours of my time. I seem unable to tear myself away.
Yesterday I caught an episode of
Chef At Home
. Michael Smith is one of my favourite Food Network chefs; I find him to be very down to earth and pleasant to listen to, and it's nice to actually watch a show that is filmed in the Maritimes (Prince Edward Island). While watching yesterday, I saw a couple of recipes that I wanted to try. They looked pretty simple, so I decided they would be tonight's supper.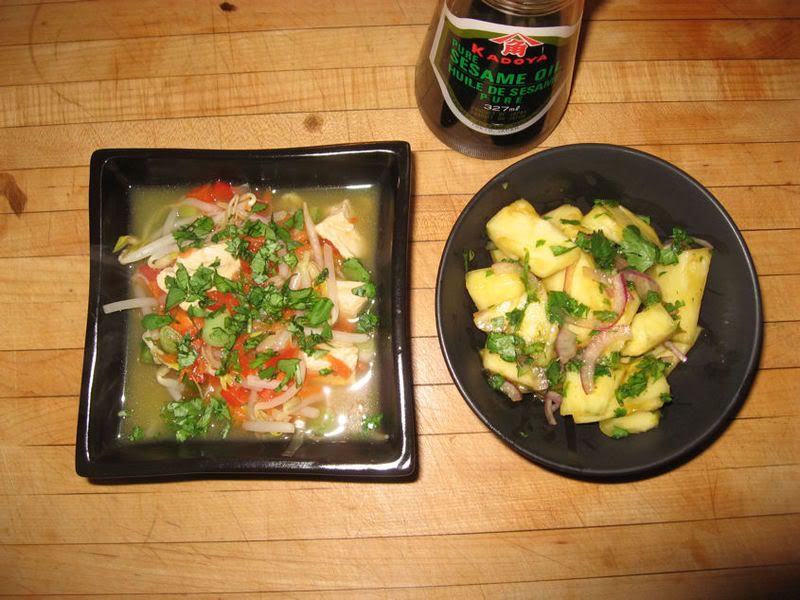 We had Spicy Pineapple Salad and Orange Ginger Broth with Soba Noodles.
The Spicy Pineapple Salad was awesome - the perfect balance of hot/sour/salty/sweet that I love. The soup had a more delicate flavour, especially after the tang of the pineapple salad, but it was really good and was easy to do.
I did change up the soup a bit - added chicken, and used a red bell pepper (mainly because I had one that needed to be used) instead of bok choy. Also, I garnished with a bit of sesame oil and cilantro rather than sesame seeds.
I can definitely see making both of these recipes again.
Recipes here