Day 2 of the sugar-free campaign. So far, all is good.
Found at Canadian Tire on Sunday: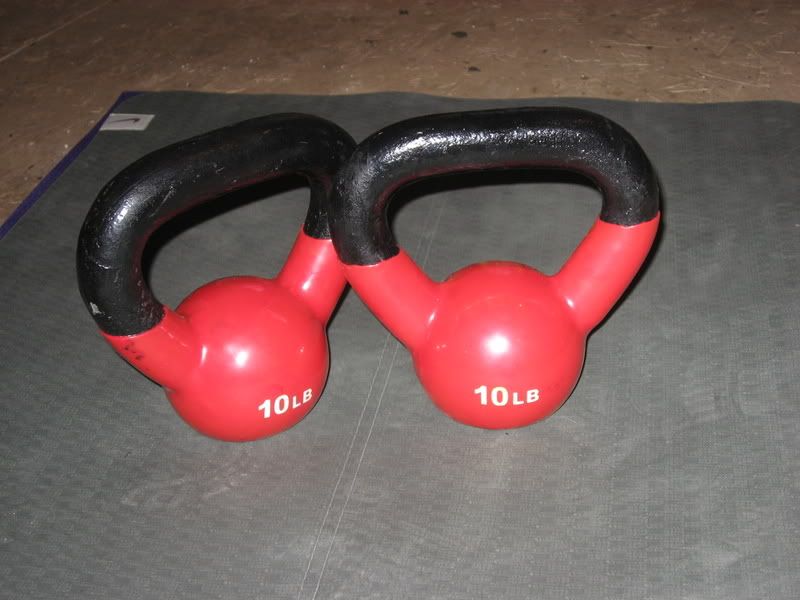 After I spent the month of September adapting Kettlebell exercises to use dumbbells.
They had two 5 lb kettlebells and 2 10 lb kettlebells on the shelf. I decided I could give the 10 pounders a good home. Tried them out with my Boot Camp routine tonight. Always fun to add something new into the exercise routine. It's like getting new toys.

Edit: For all the non-Canadian folk confused about why I was buying exercise equipment at a Tire store: The Canadian Tire Story. Actually, it was interesting for me too - I am just so used to the fact that Canadian Tire sells a variety of products, was interesting to read the history.

------------------------------------
Daily Record
------------------------------------
BF: 1 slice multi-grain toast with Almond Butter, Coffee w/10% cream
Snack: Apple
Lunch:
Olivieri NutriWise Broccoli & Cheese Ravioli
with homemade tomato sauce, baby carrots
Snack: 12 almonds
Supper: Chili Con Carne, 1 slice multi-grain toast with butter
Workout: Bootcamp - 60 mins