Accessorizing the Garden
My collection of garden ornaments has been growing slowly over the past few years. Every so often, I see one that just seems to belong in my garden and then I must have it.
I first saw this plaque on my trip to Whitehorse in 2006. It was my last day there, and I'd already done plenty of souvenir shopping. I wanted to bring it home, it appealed to my sense of whimsy, it fit in so well with my other garden ornaments...But it was quite heavy and I was concerned about lugging it all the way home. So, reluctantly, I walked away.
Last spring, browsing around a local store, I found another one. This time there was no hesitation.
Disclaimer: This is actually a photo I took last year, because I didn't think to do a closeup again this year. But it's in the same spot this year, by the front step under the rhododendron.
This is not the first ornament I added to my collection, but I'm starting with this one because, to me, it seems like an invitation to explore the garden.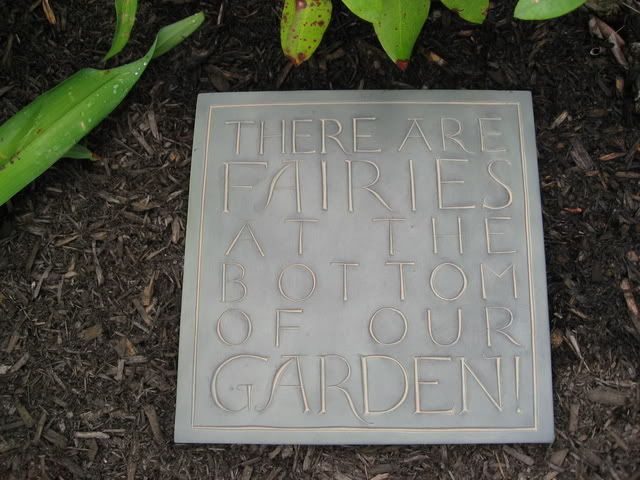 This one may be a little hard to see. It was found at one of the stalls in the Saint John City Market. I think it was before I even had a garden. But I liked it. My parents were visiting for the weekend and we were being touristy and shopping around.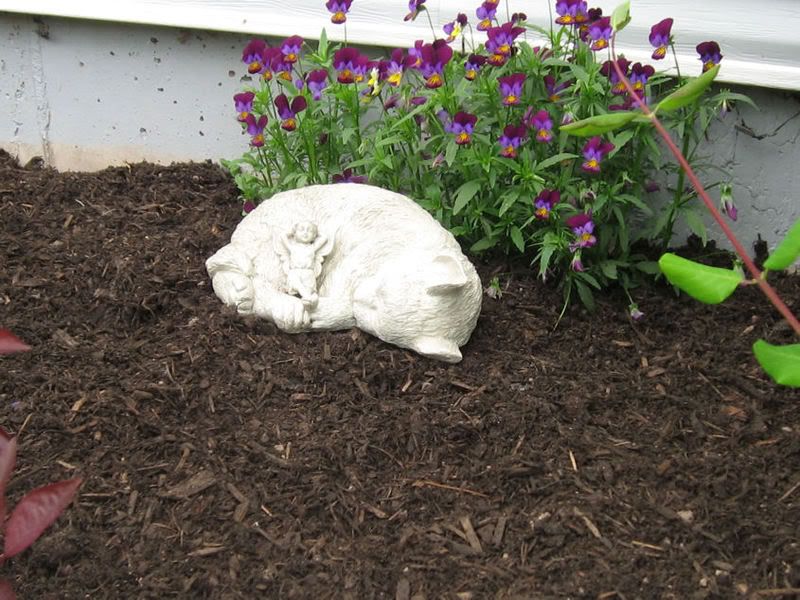 These next two came from the SuperStore, though not the same year.
The first one is sitting by my little Bog Rosemary plant. I got this plant I think four years ago now. I saw it at a garden center, then I went home and looked it up (forget the exact name of it now - Blue Ice Bog Rosemary? Something like that. It gets pink flowers). According to what I found, it should survive the winter here so I went back and got it. After the first winter, I thought it might be dead. But I left it alone and started seeing little bits of green here and there. I pruned it, fertilized it, and gave it some time to see what would happen. It's been looking better and better every year, so I'm glad I decided to give it a chance.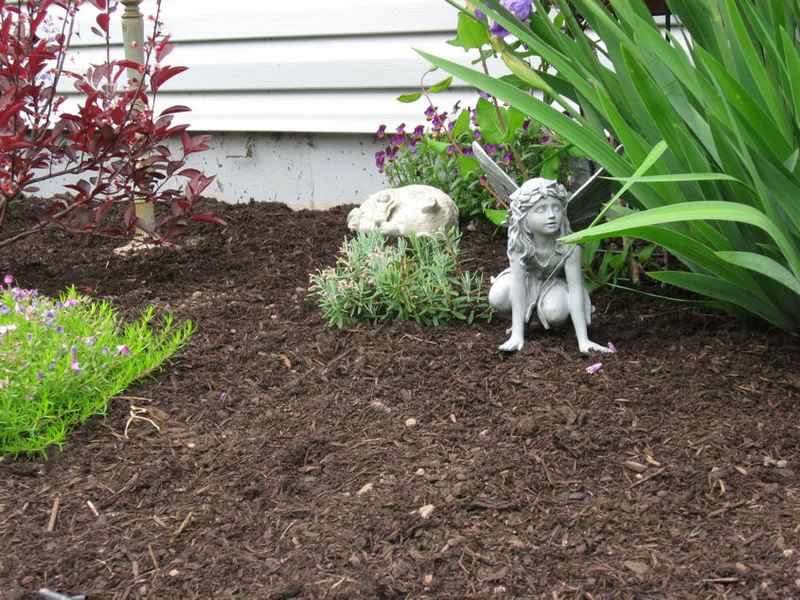 In the background here, you can see 3 trellises close together. I wasn't sure whether I was going to get my vegetable patch or not this year, and I was determined I was going to plant something, so I have 3 little sugar snap pea plants growing in my flower garden.
And this one from another little Saint John shop. I love her wings!
Back behind her, you can see one of two little lanterns (the second is under the other forsythia bush, in one of yesterday's photos). They came from a dollar store, I had three but sadly I broke one. In the past I have used them on the deck with candles, but this year I decided to put them in the garden.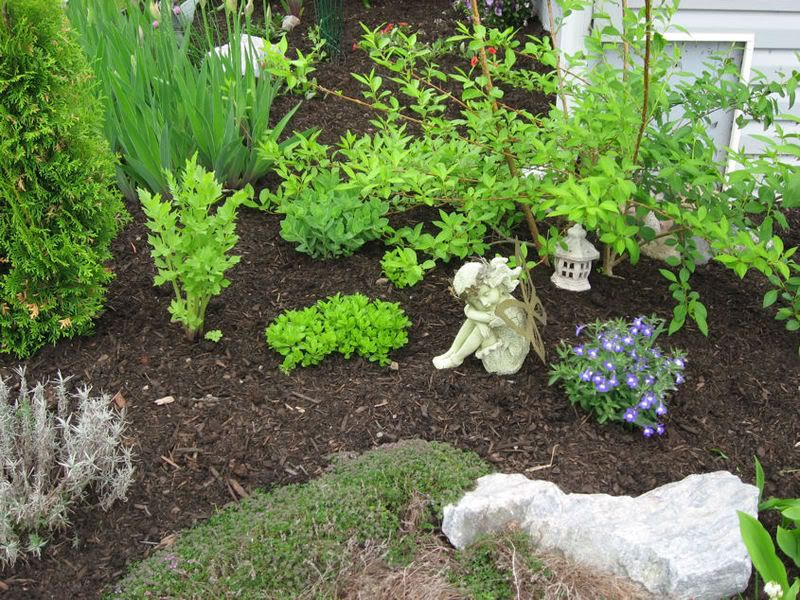 Last summer my parents came for a visit and we went to
King's Landing Historical Settlement
. In the gift shop I found this little bird bath. I saw in when we first got there, and I thought "This belongs in my garden." I thought about it for the afternoon, while we toured around, and on the way out I decided to buy it.
And I am now realizing I forgot one, probably because it is sitting on the hearth by the fireplace. I am not going to take it outside today, because it's pouring down rain. But you can see it
here
. Looking back at those pics, which are from last year, I can certainly see how much some things have grown and bushed out. Guess that's why I didn't think much about pruning last year - things really grew like crazy this year!
---------------------
Daily Record
---------------------
Weight: 143.4
BF: Muffin & Coffee
Lunch: Corn & Black Bean Salad, cottage cheese
Snack: grapes, yogurt & granola
Supper: Multigrain breaded Tilapia filets, salad, fries
Workout: Weights