I was sitting on my couch with my morning coffee, looked out the window, and this is what I saw...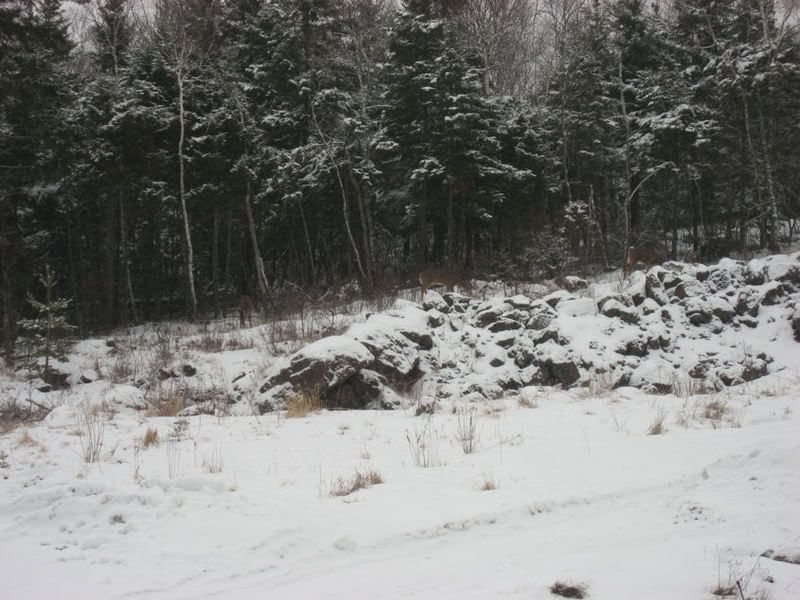 I zoomed as close as my camera would go...




Don't know if you can see them, but there are three deer at the tree line. There was a fourth in the woods, but he didn't come out.

I do live in the city, but we were fortunate to buy a house right at the edge of the subdivision. If I look in one direction, I see houses; off to the other side I see trees. We see a lot of deer, but I don't get tired of it. I suppose in a lot of ways they are a nuisance, but I enjoy seeing them.

I can't believe it's Sunday night already. Busy weekend. Got quite a bit done, though as usual not everything I would have liked to accomplish. We did get out today to buy Moon a pair of snickers (after brunch). Oops. sneakers. Freudian slip there? Got some house cleaning done, some laundry. Finally got the new TV stand in place, did some rearranging in the basement.

Eating was not perfect, I will admit, but could have been worse. Yesterday I started the Couch to 5K running program (we'll see how that goes). Then I did 30 minutes with weights. Today I did my Ellen Barret Fat Burning Fusion DVD.

Tired now, looking forward bedtime.