We were late getting home last night, which meant it was late by the time I did my workout and finished supper. After supper I sat on the couch and wrote my blog, then surfed around reading a few blogs. Then it was bed time and I realized I hadn't put together a lunch and I hadn't cleaned up the kitchen from supper. Oops.
Breakfast this morning was a Ciabatta Breakfast Sandwich from Java Moose, along with my usual coffee. Not something I would want to be eating every day, but it is very filling and it's tasty!
It was after 1 pm by the time I decided to eat lunch. I still wasn't hungry, but...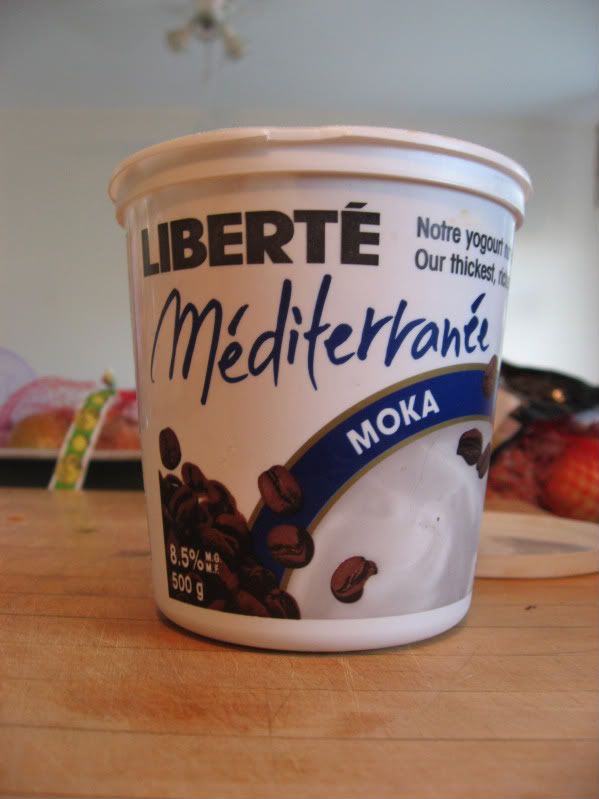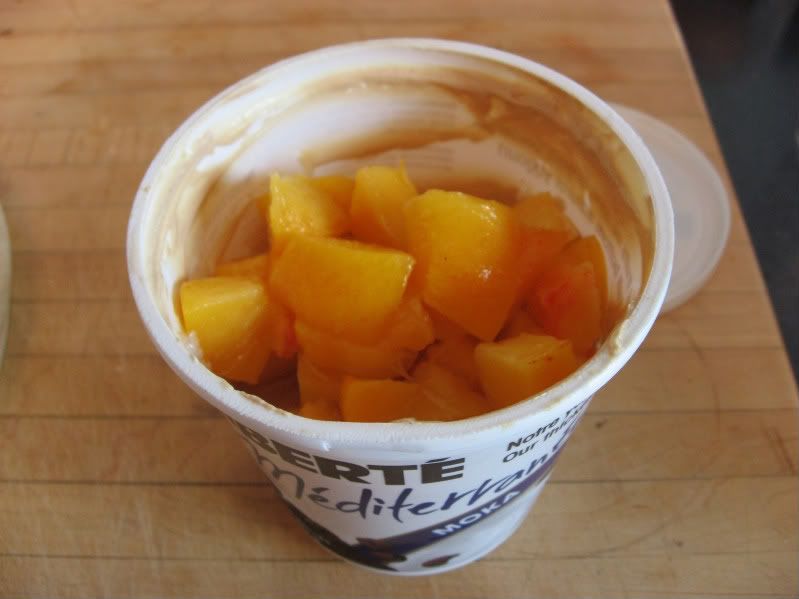 I had two peaches sliced up and dumped in with the remains of my yogurt (photos take in the morning at home) and I knew the peaches wouldn't keep. I did enjoy it though - fresh peaches and yogurt is one of my very favorite things. I tend to stuff myself with as much as I can while peaches are in season.
It was another sunny day and I found myself doing the same thing I had done yesterday - "I'll go out for a break as soon as I finish...". This time I cut that short and took myself outside. I don't like it when I stay chained to that chair all day without a break, and I should be taking advantage of the good weather right now. I still got everything done that I needed to.
We were a little late leaving work today, but not as late as yesterday. I changed my clothes and went out to clean up the kitchen. I had a snack - which I almost forgot to photograph; 4 Triscuits with hummus.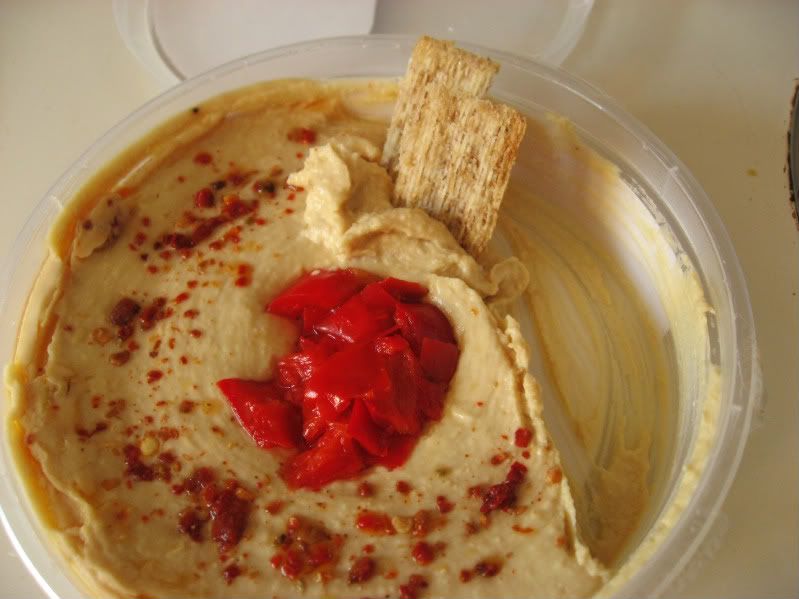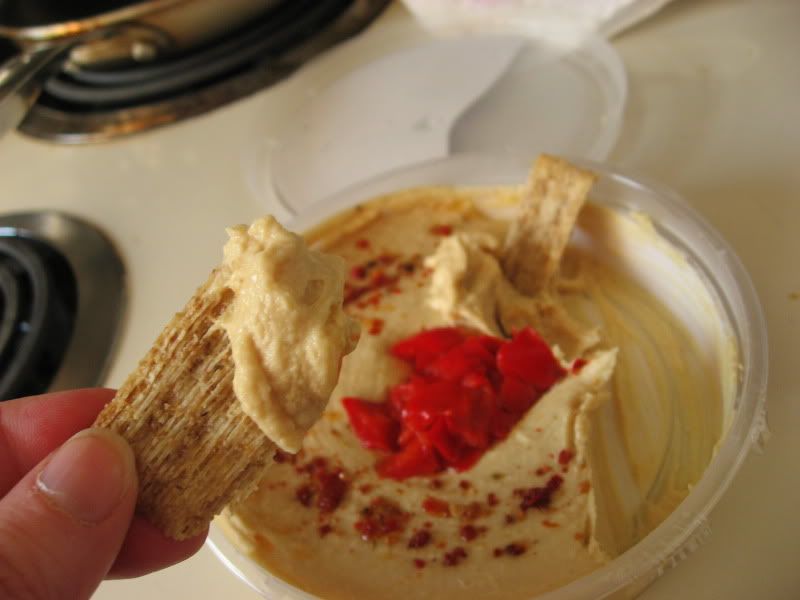 I had been considering going out for a walk, but Husband was ready to make supper and I was tired, to be honest, so supper it was. Husband wanted Bacon & Tomato sandwiches again (no argument from me) and I made a salad to go along with.
I had three kinds of tomatoes going: grape tomatoes and chocolate cherry tomatoes (both from my garden) and some strawberry tomatoes from Superstore.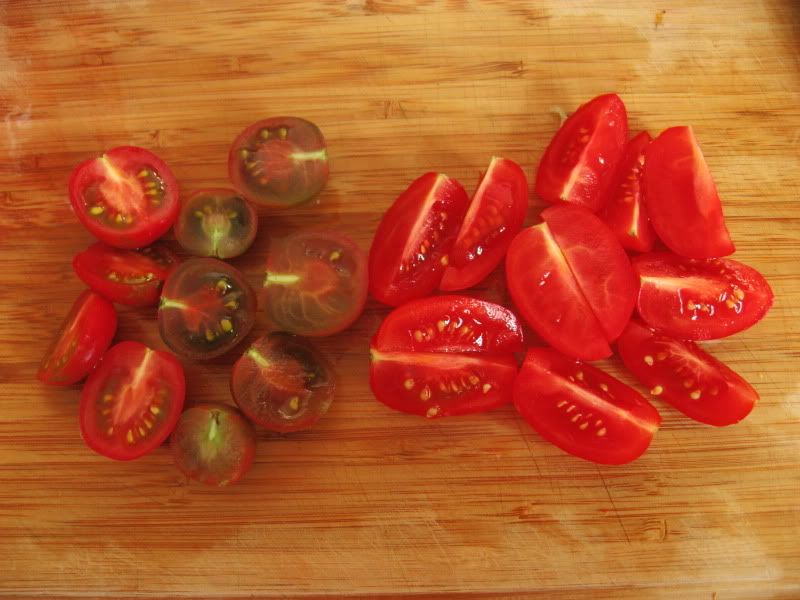 The chocolate cherry tomatoes are new to me so I'm not entirely sure what colour they should be when they are ripe - they tasted good in the salad though.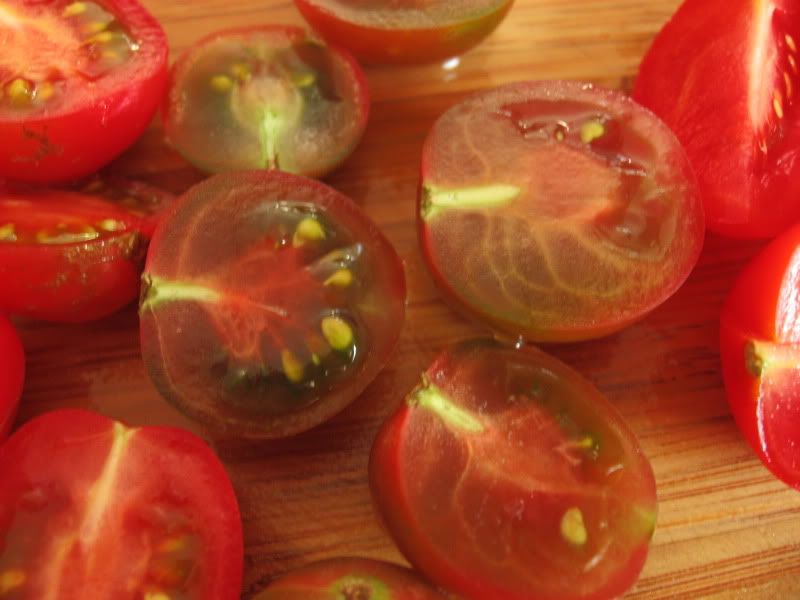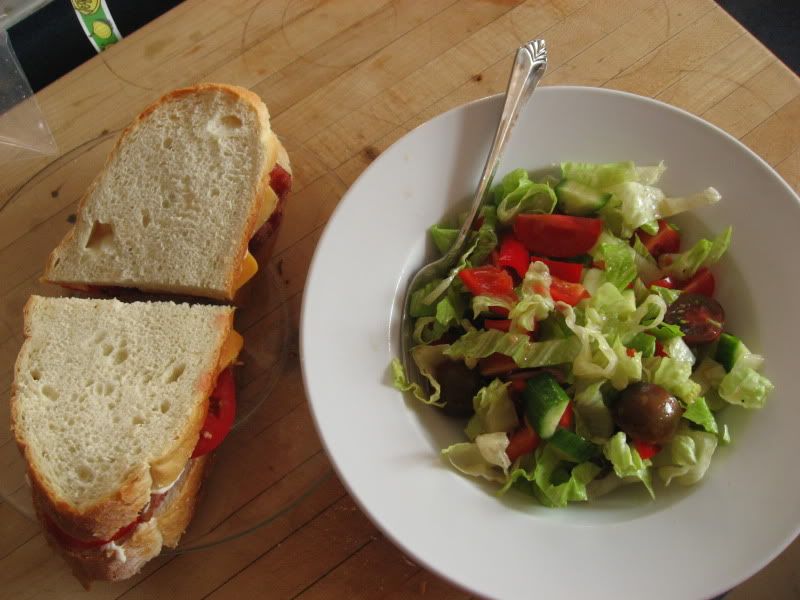 (That sandwich is on a plate, it just happens to be clear glass so it barely shows up.)
After supper I cleaned up the kitchen, then took Fred for a short walk. We went up the hill, and we were both facing away from the road when a car squealed it's tires. Fred jumped straight up in the air, and his rear end swung around so he came down facing the road. I know describing it doesn't do it justice, but it was pretty funny to see.
After Fred and I came back in, I did some more tidying in the kitchen and living room. Then I went downstairs and did 30 minutes of yoga. On Monday, I started the final 4 week phase of the Boot Camp program I've been doing which means all new workouts this week. I felt fine this morning, but by the time I got home from work today I was feeling my glutes and outer thighs. A little bit of yoga was just what the doctor ordered.
Oh, almost forgot - Cookie Monster Husband strikes again; he went for cookies and handed me one. I got a picture this time, and tonight one was enough.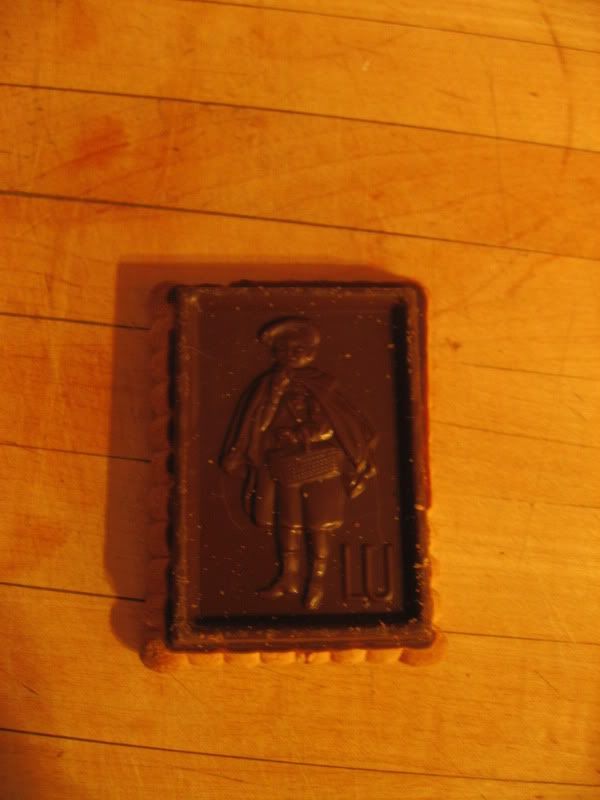 And I did not make a lunch for myself again tonight, because I don't know why...I thought about it, but just didn't feel like doing it. I've been eating mostly salads for lunches at work for a few months now. During the hot weather it was exactly what I wanted. But maybe it's getting to be time for a change...So I have no idea what's for lunch tomorrow. Oooh...Cliffhanger ending! Come back tomorrow to see what JavaChick ends up having for lunch!